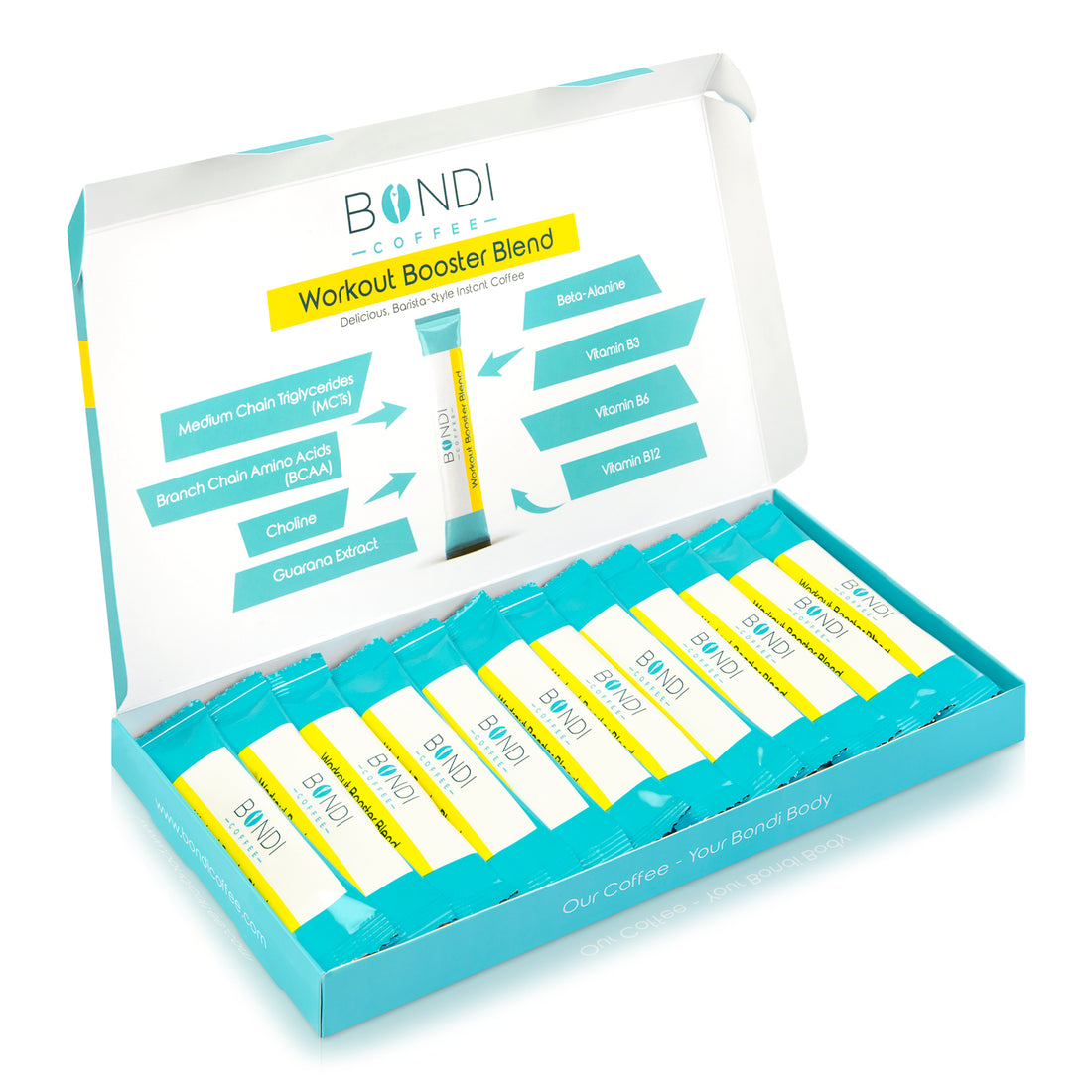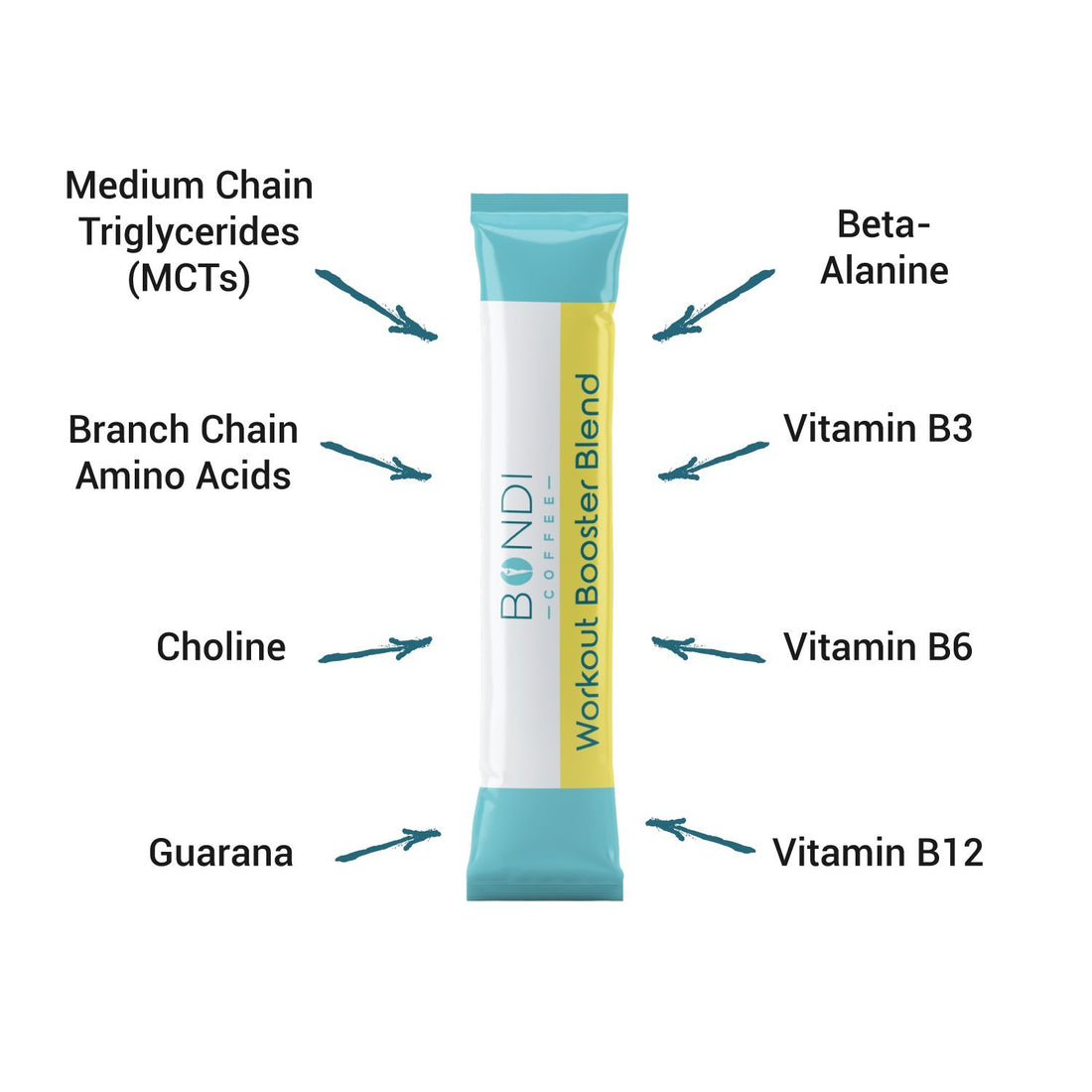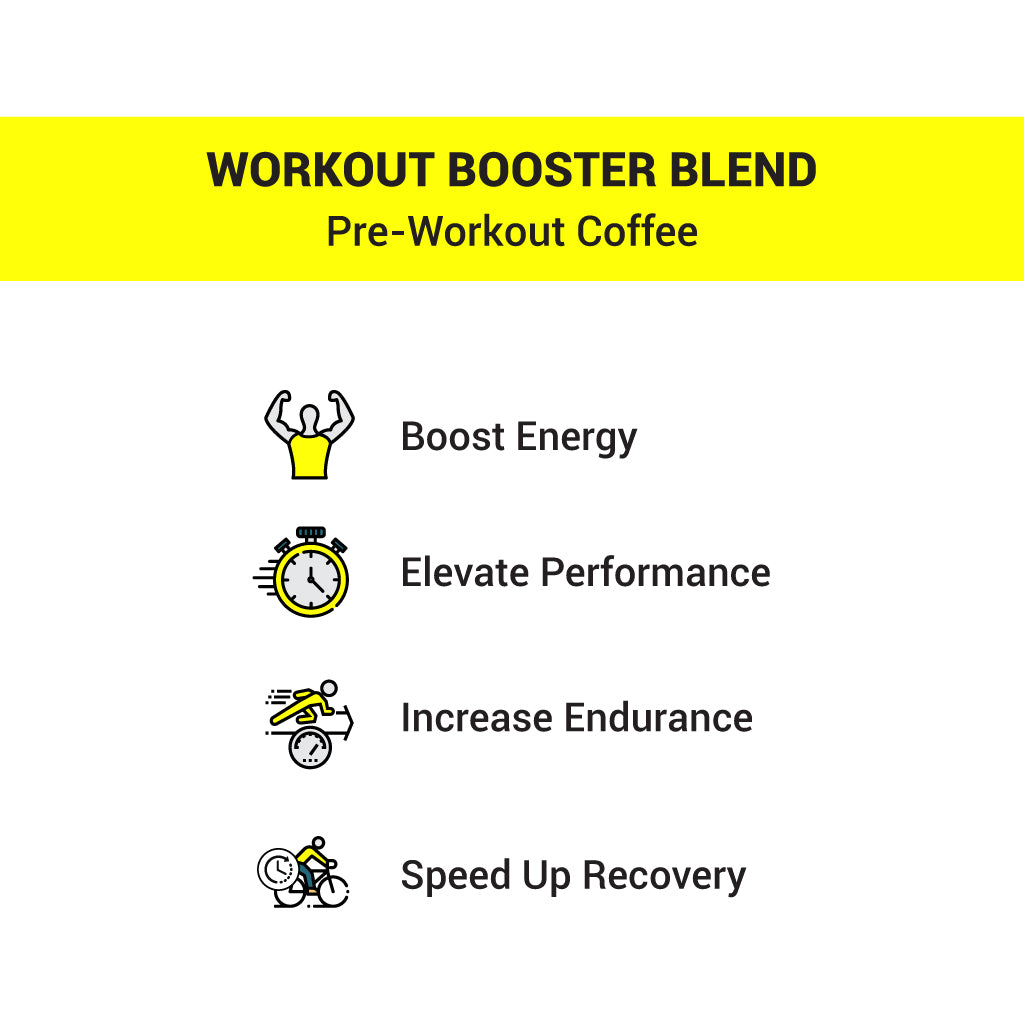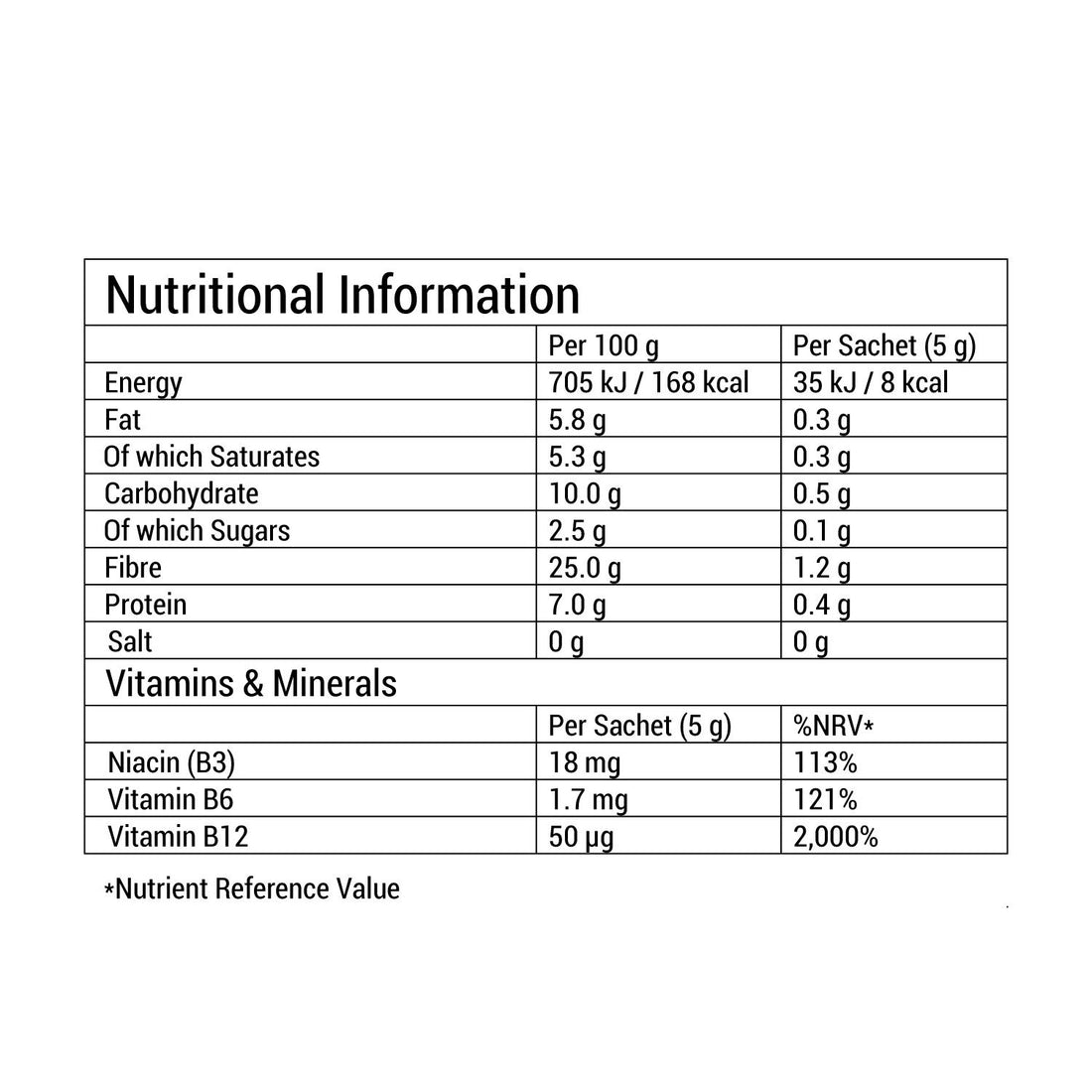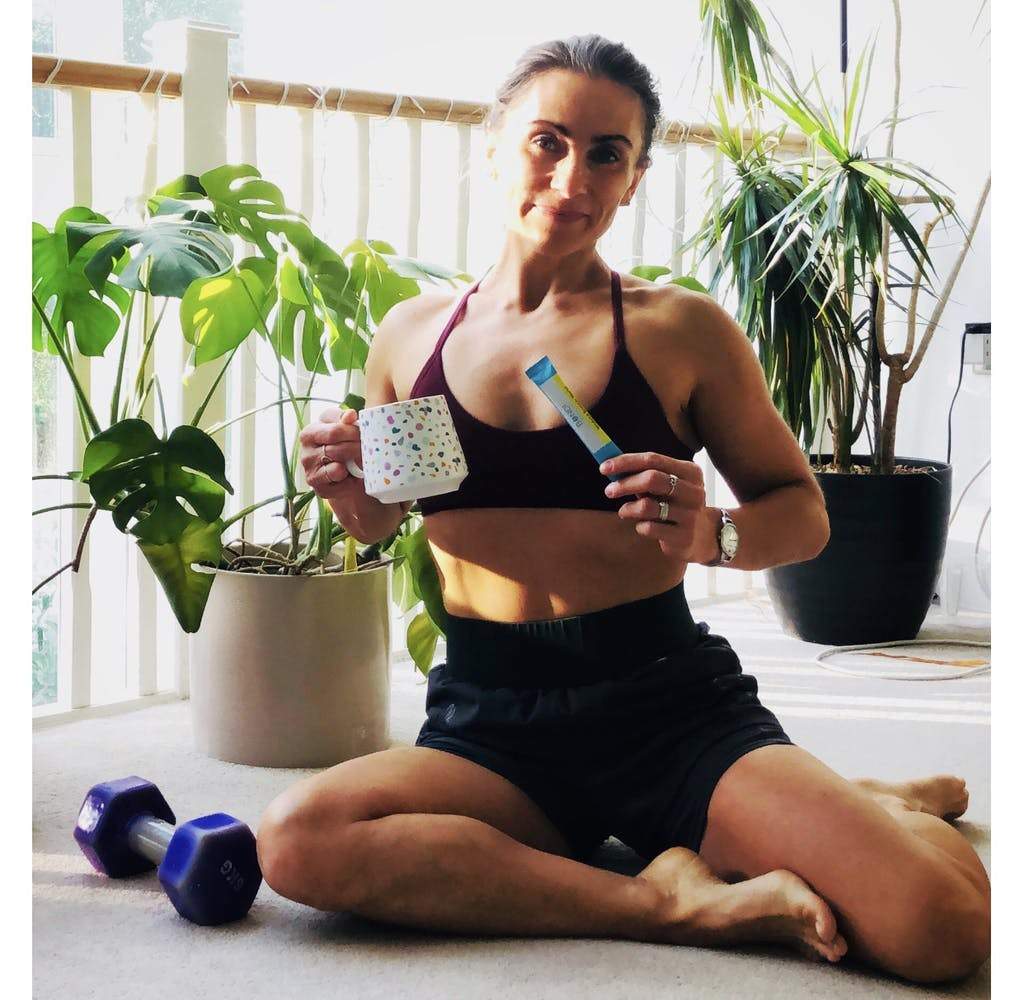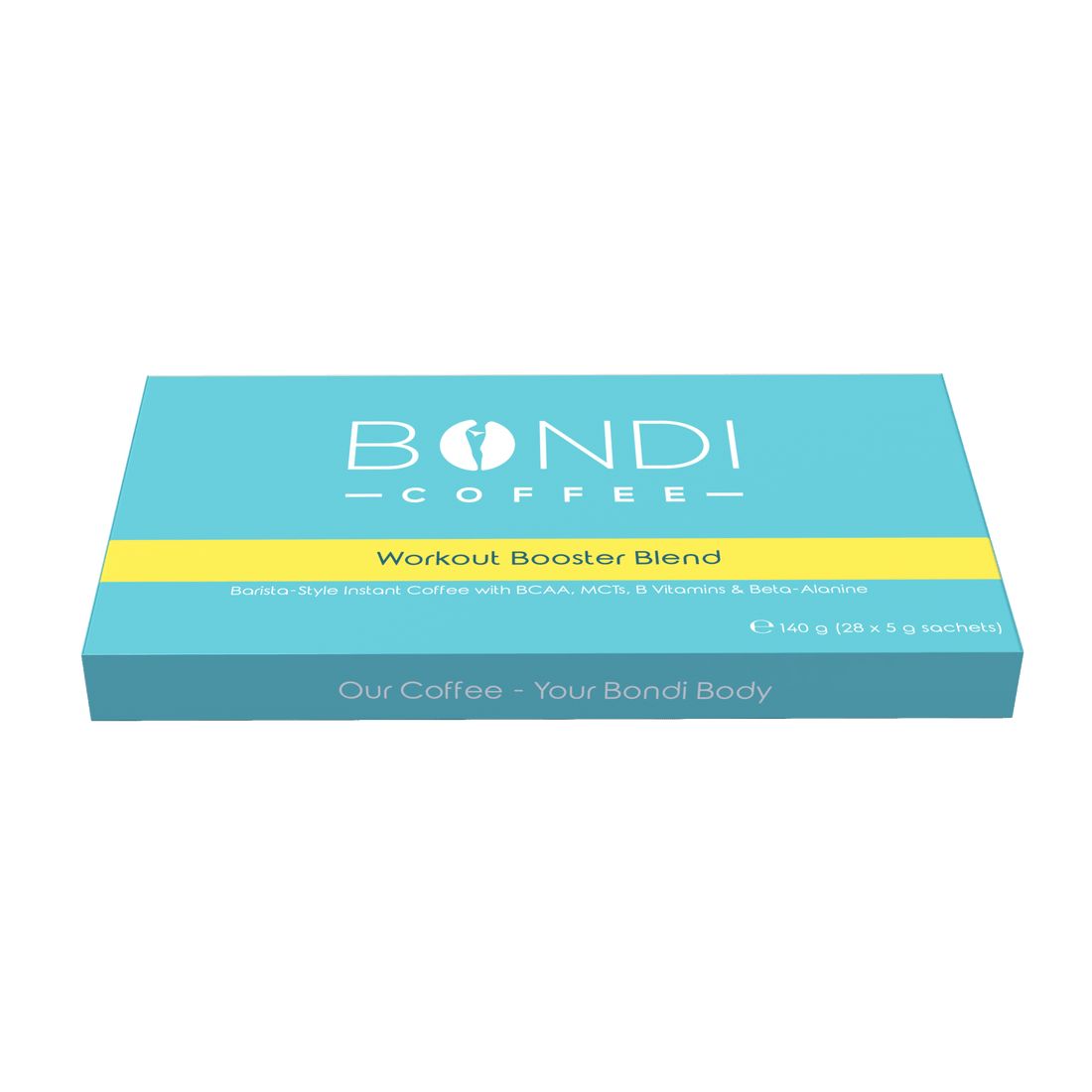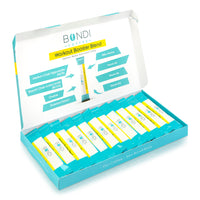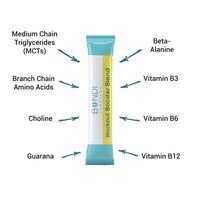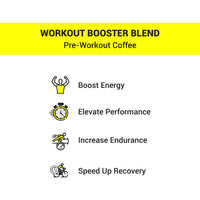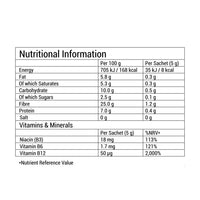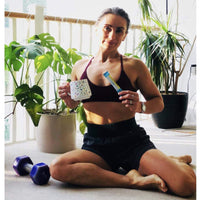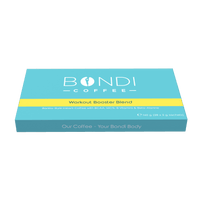 Pre-Workout Booster Coffee
The ALL-Natural way to take your workout to the next Level.
Workout Booster was developed for those of us that find 'hardcore' pre-workout powders too strong and 'chemical tasting'. 
It tastes like regular barista-style coffee and can be drunk hot or cold, mixed into a pre-workout shake. The blend contains nine active performance-enhancing ingredients for a delicious, powerful and effective pre-workout drink - without any crashes or jitters. 
Each sachet contains:
✔  2000% of your daily Vitamin B12
✔  121% of your daily Vitamin B6
✔  113% of daily Vitamin B3
• Arabica and Robusta Coffee Beans
• Beta-Alanine
• Medium Chain Triglycerides (MCTs) from Coconut Oil
• Choline
• Guarana
• Branched Chain Amino Acids (2:1:1)
• Vitamin B12
We recommend to consume one sachet before exercise.

Simply empty the sachet into a mug, add boiling water and any milk of your choice, stir and enjoy! It can enjoyed hot or cold, or mix into smoothie/shake.

If you prefer a mild brew, use half a sachet each time and keep the other half for the next cup. We recommend 1 or 2 per day, but you can drink up to 4 sachets per day.
✔ Boost Energy
✔ Increase Endurance
✔ Speed up Recovery
✔ Reduce Fatigue
The Pre-workout blend is jam-packed with all-natural highly effective performance enhancing ingredients like Beta-alanine for stamina, amino acids such as MCTs and BCAAs to aid muscle repair, B-vitamins to increase energy and reduce tiredness and Choline to burn fat.
No not at all.The Pre-workout Booster blend was developed for those of us that find 'hardcore' pre-workout powders too strong and 'chemical tasting'.The blend contains 9 all-natural active ingredients and is deliciously tasty, powerful and effective - without 'blowing your head off' or giving you jitters. It's a smooth boost with no crashing comedowns.
Absolutely! Bondi coffee is keto friendly.
We're here for you. chat with our customer support team Monday to Friday, 8am to 6pm GMT
You can also contact us via email: hello@bondicoffee.com
Let customers speak for us
BEST COFFEE I'VE EVER HAD
I have to admit that I'm NOT really a coffee person - but I used to have a black coffee before I went for a Run in the morning ; because I needed the caffeine "Kick up the Arse" and also because having a black coffee beforehand was essential for activating/ using fat cell mobilisation for Energy....but I literally had to drink the black coffee through gritted teeth because it tasted disgusting, and it also gave Me the "jitters"/gave Me Stress and Anxiety..!!
But then I tried BONDI coffee and it was Absolutely Brilliant.
It tastes Delicious and - because it's Full of Natural ingredients that are Healthy - I NEVER get jittery or anxious anymore.
Seriously the Best coffee I have EVER had, it's very Healthy and beneficial for the Mind and Body - and it's actually cheaper than the vile Shit that I used to buy from the supermarket.
PLEASE try this product and I can Guarantee that You will NOT be disappointed/ NEVER regret it.
The company also has very good communication and quick delivery. Definitely recommend BONDI coffee.
Best coffee ever!
I was frustrated with coffee because I often found that drinking it made me feel sick. Sometimes I want that pick me up in the morning. Now that I discovered Bondi, my coffee woes are gone. Bondi makes me feel great with a continued and steady energy level throughout the day.
Brilliant, good taste & effective!
Been a member of Bondi Coffee for a while now & just purchased the pre workout coffee can't be happier also lean green coffee brilliant!
So excited the pre-workout is back!
I've had the webpage for this coffee open for ages constantly refreshing so when I saw it was back in stock I signed up immediately for the subscription. I love it. Gives me a healthy kickstart for the day. Also no caffeine crashes, palpitations or headaches that I usually get as I'm super sensitive to caffeine. Cannot recommend enough. I use one sachet for two cups as like it not too strong too so lasts even longer for me!
Great taste with the energy boost bonus!
I'm so happy that Workout blend is back in stock! Great coffee, delicious taste and really useful pre workout :)