Here at Bondi Coffee, we LOVE how exercise makes us feel and we know that a lot of our #bondibabes feel the same.

Which is why we've decided to do the rounds of London's TOP Fitness Studios and Classes to inspire and give YOU the
low-down.

Real, honest reviews!
We sent our social guru Amy down to FLYKICK on Euston Road to try out their Signature Class. Here's her Bondi low-down!

Venue: FLYKICK
Location: Euston Road, London
Class: SIGNATURE
Budget or blowout: £10 for your first class!
Just like everything in the Euston area the FLYKICK Studio is white, bright, shiny and CLEAN. We've tried our fair share of boxing classes and found that several are dark, sweaty and intimidating. Well, FLYKICK is the polar opposite - it's deliciously clean!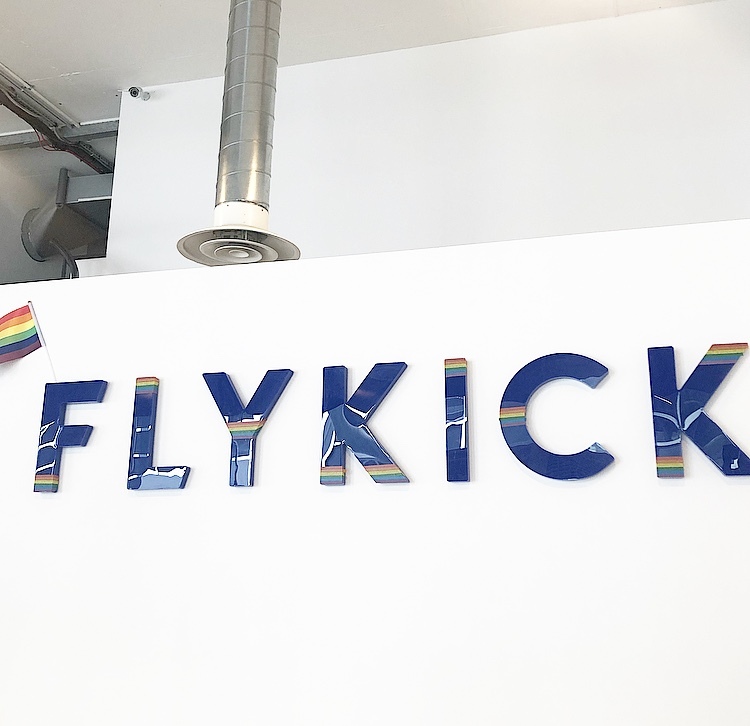 Immediately, we were greeted by the extremely friendly staff who were just amazing.

As first timers, nothing was too much trouble and we were taken on a tour of the beautiful studio. Tour complete, we bought our wraps (pride themed may I add) and headed to the changing rooms which are equally as impressive - think spa vibes!!
First timers are required to attend a quick briefing session where instructors run through technique, class structure and also give you time to ask any last minute questions. This was actually super useful as both myself and Flo were quite apprehensive!
As is day to night, the studio is the total opposite of the reception area. Dimly-lit, UV lights and lots of free-standing bags, it's definitely where the fun stuff happens!!

Intro's done, it was time to start. Fast-paced, high energy and brilliant music, those pre-class nerves quickly faded and before we knew it, we were doing burpess, jump squats, star jumps - and that was just the warm up!!

Post-warm up we promptly started the first section of the class which was 20 minutes of HIIT broken down into 4 minute segments. 2 exercises cycled for 20 secs on and 10 off.

Warm-up and HIIT ticked off, it was time to grab the gloves.
The second part of the class is again structured by timings, but longer at 2.5 minutes with a 1 minute break. We focused on boxing combinations - punches and kicks before piecing them together in a longer sequence.

During the 1 minute break, our instructor showed us what the next part of the routine would be. She took the time to correct technique and provided very useful pointers. She made sure that everyone received the right amount of individual attention - something that can often be overlooked in a busy class environment.

Each person has their own bag so you can take things at your own pace which I loved as it took me a while to pick it up!
A quick glance around the room and it was amazing to see the range of ability in the class. Some beginners like Flo and I, then some absolute pro's looking as if they could have been in the ring!

Time FLIES when you're having fun and before we knew it, 55 minutes was over. Gloves off, water onboard, it was time to hit the floor for a bit of core work and stretching.
 
The post class endorphins? WOW they were SO real. We left smiling from ear to ear, covered in sweat.

It was brilliant. There's something really special about an exhilarating fast paced boxing class.
Yes, the class is hard and you will sweat buckets, but it's so worth it. After a few classes, we're certain you'd start to reap all the benefits boxing promises!
To find out more about FLYKICK, take a look at their website, book yourself into a class and be sure to let us know your verdict!
HAPPY SWEATING BONDI BABES!

Love, Bondi Coffee x